Creating and Printing Shipping Labels
You can create and print a single UPS Ground shipping label at a time. The label will be pre-populated with the Club Supplies Shipping address as the return address and ABC's address as the Ship To address. You must create and print a new shipping label for each package you are mailing.
To create a new shipping label
On the Club Supplies form, click

UPS Labels

. Shipping Information will appear.
Verify your shipping information and modify as needed.
In the Create & Print Shipping Label section, click

Create

.
To view and print your new shipping label, click

Print

.
To keep track of the UPS labels that you send out for your club, go to the Daily Web Transactions page, select UPS Label Created from the Change Type list and click Submit.
Depending on the dates you entered, the daily web transaction report will display all the UPS labels that have been sent out for that time frame.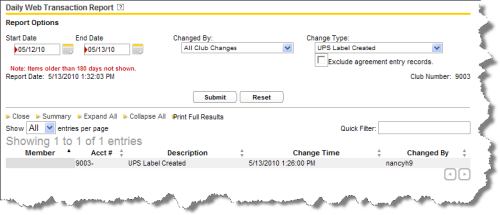 ---