User Profile
Before updating your profile, please note these important password management facts:
User accounts are locked out after six invalid logon attempts.
Passwords are masked when entered into the system and are protected with encryption during transmission and storage so that they are unreadable.
Passwords must be a minimum length of at least seven characters and must contain both numeric and alphabetic characters.
Passwords must be changed at least every 90 days.
Passwords cannot be the same as the previous four passwords.
You can manage your personal information on the User Profile page.
To update your user profile
In the Misc Links menu on the right side of the page, click

User Profile

.
Add or change the following information as desired:
Password - To assist you in selecting a new password, guidelines are provided in the right sidebar menu.
Name - First Name, Middle Initial, and Last Name
Email Address
Secret Question
Secret Answer
Zip Code
Click

Submit

.
The following is an example of the User Profile page.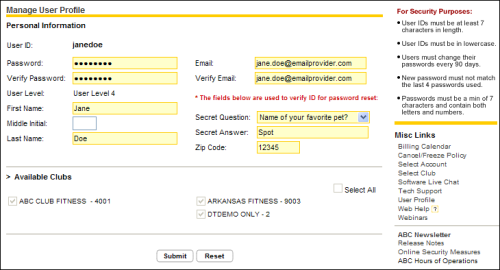 ---