Online Business Center 1.34 Release Notes
Release Date: Thursday, October 6, 2016
Release Number: 1.34
---
Fixed Issues
GUI and Database Passwords Extended
Previously, when some members reset their passwords using more than 20 characters, the database did not recognize the change and locked the member's account.
This issue has been corrected. The password field length in the GUI now matches the database field length. User names can be up to 35 characters, and passwords can be up to 60 alphanumeric characters.
Payment Screen Error Message Corrected
When attempting to rewrite a membership agreement, some clubs were unable to update or verify the current billing information because an error message appeared saying the first and last name fields were incorrect even though the fields were correct.
The system code has been corrected, and the error message does not appear when correct field information is entered.
Blank Spaces Enabled in Name Fields
The Online Business Center permits spaces in the first and last name fields. Previously, spaces were not allowed.
Logo Print Issue Corrected
Previously, the club logos did not appear or print on the payment history reports. This issue has been corrected.
Enhancements
Billing Notification Design Improvement
To improve visual notification, alert messages for shared billing information appear larger and highlighted.
Before:
After:

Footer Information Revision
Some information in the Online Business Center's footer area was updated to reflect current business changes at ABC Financial. The revisions include:
Club Marketing was removed.
Billing Services & EFT was renamed Payment Processing.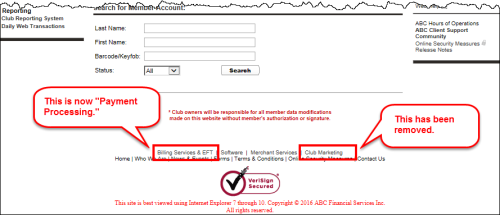 Email Module Rewrite
To improve SMTP email capabilities and to alleviate recurring illegitimate emails, the email module has been rewritten to correct the inconsistencies and to provide more reliable mechanisms.
Secondary Schedules Frequency Settings Update
To better align Online Business Center functionality with club initiatives, users can set the frequency of additional schedules during new agreement entry. Previously, the new agreement had to be entered before users could specify the frequency of additional schedules.
Descriptive Message Windows
To improve usability, item descriptions related to supplies now appear in pop-up windows.
Default Effective Date Added
To eliminate manual system tasks, all payment updates are effective on the date of entry. The effective date field is not editable and includes the following pop-up message: "By submitting this payment information, you understand that we will use it for all future drafts."
Order Form Contact Information Update
To better align and communicate business processes, the Key Tag order form and Agreement order form can include different email addresses. Previously, the system only accepted one email address for both forms.
19-Digit Credit Card Numbers Permitted
The Online Business Center functionality has been extended to permit 19-digit credit card numbers. Previously, only 16-digit credit card numbers were permitted.