Re-Ordering Membership Agreements
The Membership Agreement Re-Order form allows you to choose the 2 Part forms or the 3 Part forms for any of the existing Re-Order types. Depending on whether you choose the 2 Part or 3 Part option, the Quantity options will change to reflect the appropriate price breaks for the selected option.
Note: For new orders or orders with changes, please contact Club Marketing (866-992-8960).
To re-order membership agreements
Select the type of agreement from the

Re-Print Order

list:
Current Template
Renewals
Personal Training
EAE Agreement (Back Page)
Select the

Re-Print Type

: 2 Part or 3 Part.
Select the order

Quantity

. The Quantity options are based on the re-print type you selected.
Type the beginning sequence number. This should begin where your last order left off.
If you would like any non-numbered agreements, type the amount needed.
Review your shipping information for accuracy and select the desired shipping method. (Shipping rates are listed below the Shipping Method.)
Click

Submit

.
The following is an example of the Membership Agreements Re-Order form.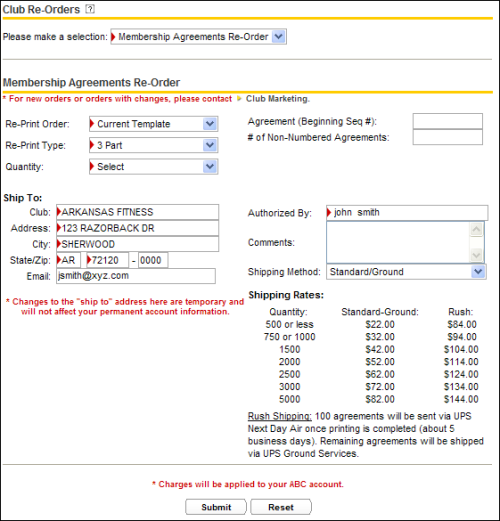 ---