Auto-Payment Update
At ABC Financial, accounts have three basic payment options: Coupon, Credit Card, or EFT (Electronic Funds Transfer).
If you do not have Auto-Payment information then you can select Coupon as the Payment Mode and request a coupon book.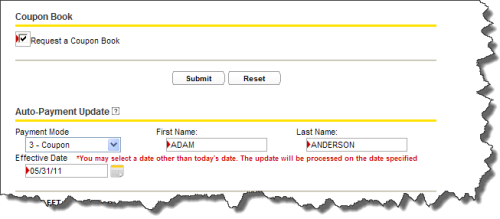 If the account has a Payment Mode of Credit Card or EFT, ABC Financial uses the current auto-payment information to automatically draft the corresponding account information.
Note: When updating EFT or Credit Card information for an agreement that shares billing information with other agreements, you will not see the other agreements that have the same information. You must choose to update all of the agreements that share the billing information, or update one agreement's billing information at a time.
To update a member's payment information
In the Account Maintenance sidebar menu, click

Auto-Payment Update

.
Select the

Payment Mode

(required). This will expand the necessary fields for editing.
Type the

First Name

and

Last Name

as they appear on the card or account.
Select an

Effective Date

. While this defaults to the current date, selecting a date in the future allows you to enter updated information ahead of time.
Update payment information.
If you selected a Payment Mode of

EFT

:
Type the

Bank Routing Number

.
Type the

Bank Account Number

.
Select the

Account Type

.
If you selected a Payment Mode of

Credit Card

:
Select the

Credit Card Type

.
Type the

Credit Card Number

.
Type the

Expiration Date

.
Click

Submit

.
---