Agreement Checklist
The Agreement Checklist Form allows you to enter information about your club's new completed agreements that you will be forwarding to ABC. The checklist's purpose is to replace the handwritten agreement checklist that you normally mail to ABC with your agreements. You can now print a clean report of the agreements you have entered and forward it along with the physical agreements to ensure all agreements have been sent and received.
Note: The checklist will only be referenced for the verification of the receipt of individual agreements.
The following is an example of the Agreement Checklist Form and View/Edit Agreement Checklists.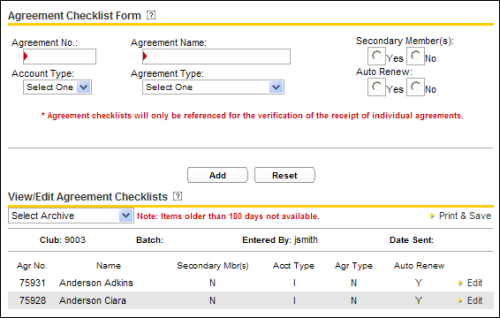 Agreement Checklist Form
The Agreement Checklist Form has the basic information for all agreements. Every available option starts with the agreement number and agreement name. The following is a list of options and their descriptions.
Option

Description

Agreement No

The number assigned to that specific agreement.

Agreement Name

The name that the specific agreement is under.

Secondary Member(s)

Indicates whether or not there is a secondary member on this account.

Account Type

The type of account that will be entered. The options are:

Cash - an agreement that is paid in full with a one-time payment.
Installment - an agreement that has a specific number of payments and a specific billing cycle as well as a predetermined expiration date.
Open End - an agreement that has a well-defined invoice schedule, but has no predetermined expiration date.

Agreement Type

The Agreement Type is the activity that must be performed to enter the current agreement. There are four choices:

New Agreement - An agreement that has not previously been entered.
Rewrite Existing - An existing agreement that is rewritten using the same agreement number.
Renew Existing - An agreement that is renewed using the same agreement number.
Renewal Statement Program - A renewal letter will be sent to the member with renewal options.

Auto Renew

Indicates whether or not this account is set to auto renew.

Add

Click to add this agreement to the list.

Reset

Click to clear the form.
View/Edit Agreement Checklists
The View/Edit Agreement Checklists form provides a general overview of the current Agreements you have entered but not yet submitted. From here you can view, edit, save, and print the checklist of agreements that you will be sending to ABC.
Option

Description

Select Archive

You can select a checklist of previously entered agreements by date and timestamp and then print the checklist.

Print & Save

This option allows you to print out a checklist of entered agreements that are ready to be forwarded to ABC Financial.

To print your current checklist, click Print & Save. You will then be prompted with an alert window.

Click OK to open a new window with a printable version of your current checklist. Once you have printed, you can then close the window which will automatically close and archive the checklist.

Edit

The Edit link allows you to open and edit an Agreement Checklist that you have previously added (but not saved) using the Agreement Checklist Entry Form.
---