Account Notes
The Account Notes page provides a log of all communication between ABC and your member, as well as all activity on that member's account.
Beginning with entry of the account, any changes made to the account, letters mailed out, collection calls, and more are automatically included in the Account Notes. In addition, any conversations on the account with our Member Services and Client Services departments are entered manually.
This log provides the date and time of the change, a description of the change, as well as the initials of the ABC user who made the change or who simply viewed the account. The WEBAPP and DTATRK users can refer to ABC employees or your own staff. The identity of the person making these changes is reflected in the detail portion of the notes as Authorized by - [User] (for example, Authorized by - JOHN).
Log entries are displayed in chronological order, starting with the most recent activity. Up to 50 entries are displayed at a time.
To print the portion of the log that is currently displayed, click

Print view

at the top right corner of the log.
To view more entries, click

More Notes

at the top right corner of the log.
To return to the previous page, click

Back

.
The length of these notes varies depending on the amount of maintenance that has been done, calls made to and from the member, and length of the agreement. The types of changes are extensive, so if you are unable to determine what a particular entry means, simply call our Client Services department at 1-800-622-6290 for further assistance.
The following is an example of the Account Notes log.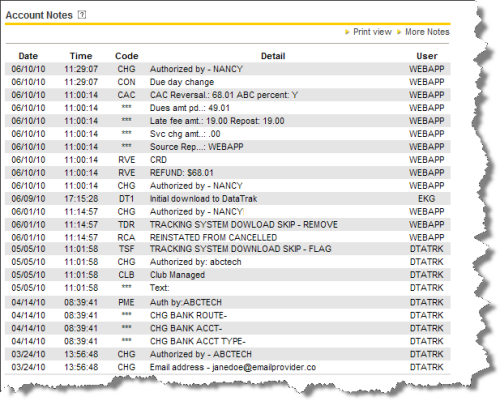 ---